This page contains workarounds and information to Online Multiplayer errors and issues that might occur in the Trine games on PC, but small section for 🎮 Consoles is included as well. The games all this info applies to are listed below.
If you have any questions, please email us at the following address. However please note that we recommend going through this page first, especially the Help section. 🙂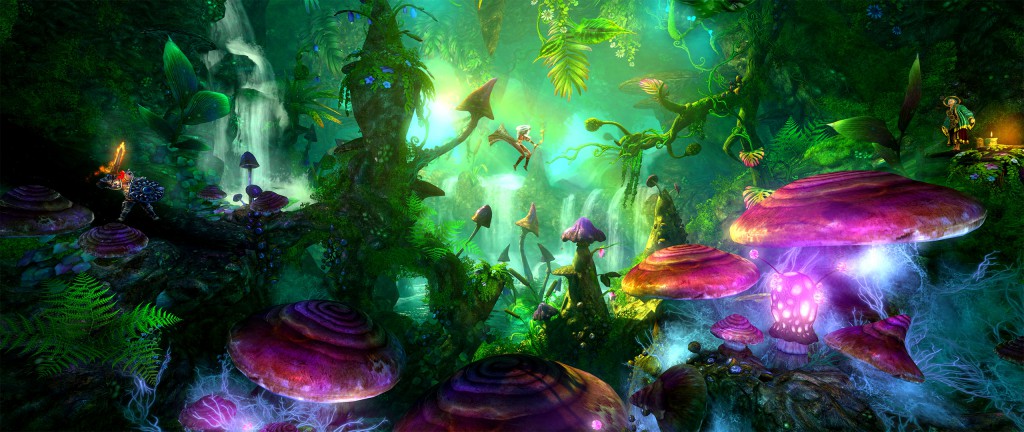 General Information
Trine games support cross-platform multiplayer between Windows, Mac and Linux. However note that some, usually just older, versions might not work together.
The Online Multiplayer works very well for the most part, as most players don't encounter any problems but unfortunately some players have trouble with it. Usually the issues are related to connecting to other players. Sometimes the game will output an error code when it can, which can tell why the problem occurred. You can see the explanations for error codes below.
Please note that one reason for errors can be simple fact that the servers might be under heavy load. That's why it's advised to try a few times at least and maybe at different times during the day. If the error numbers are always different, then that might indicate that the problem isn't "permanent" and you'll get through with enough tries.
If this guide doesn't help you with your problem, remember to check the Further Help title for how to report the issue so we can help you efficiently!
Error Codes
Below are error codes that might show up in-game and their explanations.
0 = NetErrorUnknown
// Unexpected disconnection2 = NetErrorJoinLobbyAborted
// User cancelled connection attempt3 = ConnectFailReasonNotOnline
// Not connected to master server4 = NetErrorNoResponseFromHost
// No reply received in 30s6 = NetErrorConnectionRejected, NetErrorNoResponseFromServer
// Connection was lost8 = NetErrorConnectionLost
// Connection was lost9 = NetErrorConnectionSyncDataTimeOut
// Sync data was not received in 30s (slow connection)10 = NetErrorConnectingToMasterFailed
// Cannot connect to master server65539 = ConnectFailReasonFull
// Game is full65541 = NetErrorConnectionRejected, ResponseRejectedFull
// Game is full65543 = NetErrorConnectionRejectedByServer, ServerFull
// Game is full131075 = ConnectFailReasonRejected
// Rejected by peer131077 = NetErrorConnectionRejected, ResponseRejectedBadPassword
// Invalid password131079 = NetErrorConnectionRejectedByServer, BadVersion
// Incompatible version196611 = ConnectFailReasonInvalidTarget
// No such peer196613 = NetErrorConnectionRejected, ResponseRejected
// No longer hosting a game196615 = NetErrorConnectionRejectedByServer, BadRequest
// Incompatible version262147 = ConnectFailReasonTimeOut
// Connecting took too long262151 = NetErrorConnectionRejectedByServer, TimeOut
// Join attempt timed out327683 = ConnectFailReasonDeleted
// Disconnected from master server393223 = NetErrorConnectionRejectedByServer, KickedOut
// Kicked out by server
Help
This section covers possible workarounds. Please read through them carefully! If none of them helps, please head to the Further Help section to know what's the best way to contact us for help.
How to Start Solving the Problem?
Please first check that you don't have an antivirus or other security program that is blocking the game. To avoid this it's recommendable to add the game you're having trouble with to your security program's exceptions.
If that doesn't help, please also just try playing online at a different time. This is worth a try in case your connection is loaded by programs that are not in your control, however do make sure you close all downloads on your own computer(s) as well.
On Windows also starting the game as administrator has helped many players, so it's definitely recommended. You can do this simply by going to the game's installation folder and right-clicking the game's executable (trine1_32bit.exe, trine2_32bit.exe or trine3_64bit.exe). Note that there are two executables for Trine 3, you can try both or choose the one that corresponds to your operating system version.
Another Windows related workaround is to go to the followring folder. You can just paste it to Windows Explorer.
%AppData%
When you get there choose the game's folder just delete options.txt file and then open the game normally. This will reset the game's settings which might help.
If this didn't resolve the issue, take a look at the other titles on this page!
Private and Public Games
There has been reports that Private games have more issues than Public ones. So, if you're having problems with Private games please also try a Public one and see if it has the same issues.
Unfortunately we don't know why this happens, but and we hope you can play Public games if the Private ones don't work as well.
Private Games with a Password
Even if you are invited by your friend on Steam, you sometimes may get a Bad Password popup. In this case, go to the Multiplayer / Join Online Game menu, and join the Private game manually. There has been a fix to this but in case it still happens joining manually should do the trick. When joining the game first enter the password at the bottom of the screen, and then click on the server to join.
Try an Older Version
There might be older versions available to your game from Steam. Note that your friends must use the same version to play together with you, and this might mess up your save files.
If above sounds okay, here is how to check if there are any other versions available and how to download them:
Go to your Steam Library → right-click the game → select Properties → go to the Betas tab → choose one of the builds → press close → if Steam doesn't start the download verify the game's cache from Steam by following the instructions below
right-click the game again in your Steam Library → click on Properties → choose the local files tab → click the button to verify integrity of game cache
Hamachi
We have gotten many reports about issues with Trine games and this problem, so if you are experiencing issues with Online Multiplayer and are using Hamachi, it's recommendable to close Hamachi and disable it's virtual Hamachi network card before trying the game again.
Note that also other programs that create a LAN like network can interfere with the game, so it's recommendable to close them as well.
Open Correct Ports
This refers to the UDP ports from your router. There are many guides for how to forward the ports online, but if you're unsure please contact your internet service provider. You can also ask them or search online for methods to actually check are the ports open or not.
Trine games use the UDP ports from 27300 to 27315, but you can change the range from the game's options.txt file. Below are instructions for how to find this file.
▸ Location of options.txt
%AppData% can be copy-pasted to Windows Explorer, after that you just need to search for the game's folder (Trine1, Trine2 or Trine3). On Mac the folders are at the ~/Library/ folder. For Linux the options.txt file is located in the HOME directory under .frozenbyte.
🎮Consoles
Some of the general information like the recommendation for trying both Private and Public games goes for consoles as well. However, you can't change many settings so well there, and because of this we recommend looking at the consoles network options and also contacting the internet service provider you're using for assistance.
It might seem strange, but it's very important to adjust your router to fit your console. Especially PlayStation 4 might need some adjustments from the service provider, which we have heard to work from tens of users. There might also be online guides to improve your consoles connection, but it's usually easier to ask the service provider.
Also as last tip we recommend using wired connection instead of the wireless one if possible.
If nothing on this site seems to help, just email to us with following information and we'll also gladly help! Note to also tell if you're having issues connecting to a one specific friend, or is it with all online games.
The game's name




Which Trine game are you trying to play?

Your platform




Which console are you trying to play on?

Description of the problem




When and how often is the issue happening? Did you see any error message?

Your location




The country and city you're located in. Note to also say which region are you registered to on your console.

Your internet service provider and connection speed




This information together with your location might reveal what kind of quality can be expected.
After getting the info, email it to us at the following address. Please also link it to us if you reported the problem elsewhere (like on a forum) so we know it's you.

Further Help
If workarounds above didn't help this section tells what kind of information we'd need to look into your case. However do note that if you're experienced with computers you could also try the 📡 LAN Only Option. And about the report, we recommend attaching all information mentioned under the title below, but it's okay to only include the parts you could find.
Important Information
Here is what kind of information we'd need to look into your case! Try to include as many of them as you can. Note that if you're having trouble with a specific friend(s), we might need this info from them as well.
The game's name




remember to mention which game(s) you're trying to play

List of error codes you may have received




even if it's just one

Description of the problem




including how often it happens and what exactly do you do when the issue shows up

Your net log output




instructions just a bit further below

What game settings you are using?




like your resolution, graphics detail level etc. You can also just take a picture from your launcher.

Your operating system and other computer information


Computer information stands for system specifications like amount of RAM, and your graphics and processor model. For help with this see

here

.

Your location




Just your country and city is enough.

Your internet service provider and connection speed




This information together with your location might reveal what kind of quality can be expected.
After getting the info, email it to us at the following address. Please also link it to us if you reported the problem elsewhere (like on a forum) so we know it's you.

How to Enable Multiplayer Logging?
Below is how you can enable multiplayer logs which might very well help us to solve the issue. Note that you can also just paste them to a message or email.
In options.txt there's a line:
setOption(networkModule, "NetLogEnabled", false)
As you might have guessed, you just have to replace the value "false" to "true". After doing this save the file, start the game and try playing online. After your session you can find a log file under the log folder in the game's installation folder, and please make sure it's the newest file.
If you don't remember where the options.txt is, go to this part.
System Specifications
This section tells how to get information about your system. Usually the basic operating system, amount of RAM, graphics card and processor model are enough.
On Windows, one way to see your system specs is to use the DxDiag tool. Here is how to access it:
Search for the dxdiag.exe with the Windows Search tool
Open dxdiag.exe
Copy the information from there or save them with the button "Save All Information…" and send us the .txt file
On Mac, press the Apple icon and choose the About This Mac option. Just taking a screenshot of that window is enough.
On Linux, please see help for your distro but here is a site that should help. Also mentioning your distro's version number is very helpful.
📡 LAN Only Option
If nothing else works you could try to play the game using the LAN only mode. Note that this is for more advanced users only, because especially if you're not in the same network you also need to use a separate program to establish this, and we can't guarantee the game will work with third party softwares like this. This setting will also prevent you from joining other people's games in the Trine game.
If you still would like to try this, have all of the participants connect to the same network and change the following line in the game's options.txt to match the following:
setOption(networkModule, "UseLANOnly", true)
You can just change the line back to false to disable this option.
Please also note that if you edited the options.txt file earlier, it might be necessarily to reset it for the LAN only mode to work correctly. You can reset the options.txt simply by deleting it, a new file with default options will be created when you launch the game.