We were really happy with the amount of feedback we received regarding our Christmas calendar. So thank you all! And it's why we decided that this year we're going to be writing a monthly blog post telling you what's going on here at Frozenbyte. We'll be calling these Monthly Reports! Pretty creative, right?
Sadly, we can't list everything as that would probably be a long (and maybe even a bit dull) list. But let's get to the point: what were we up to last month? 🙂
January was actually quite a busy month here at our office. The biggest thing that happened was the announcement of our new game Has-Been Heroes for Nintendo Switch, PlayStation 4, Xbox One and PC. This kept the Marketing, Support and IT teams busy as there were a lot of channels to keep an eye on, like social media. IT was there to make sure everything was working correctly. (Thanks guys!)
In addition to regular announcement plans we also had the opportunity to attend the Nintendo Switch event in London and later PAX South in Texas. We were showcasing Has-Been Heroes at both events.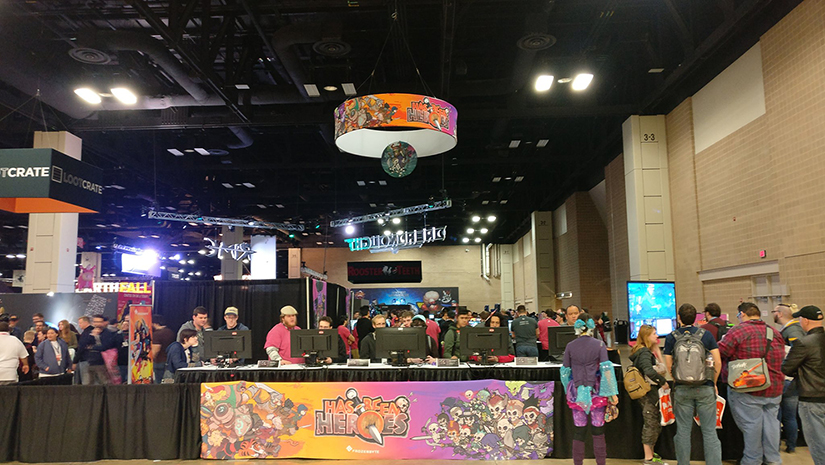 Here is our booth from PAX South in Texas!
You might already know that Has-Been Heroes was also present in the Nintendo Switch event in New York. We weren't there ourselves, but our GameTrust partners did a great job promoting the game there. 🙂
We, the Support team, have also been busy with arranging usability tests for Has-Been Heroes. Yes, some lucky people have gotten the chance to play the game in advance. It has been fun to observe the players' emotions; there has-been frustration that turned into a feeling of success. The players' feedback is very valuable to us because it helps us to refine our games further. If you happen to be in Finland and if you are interested in playing unreleased games at our office, please take a look at our Playtesting page!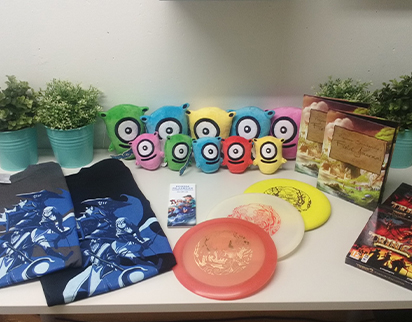 This month we also faced some challenges. As you might have seen, we have been looking for new employees. We have hired a bunch of new people and bumped into an issue regarding space (there isn't that much left). People are sitting with their knees in their mouths or toes on top of someone else's keyboard. Okay, that might have been an exaggeration… but I think you got the point. Our QA lead has done a very good job in fitting everyone in, I bet he is great at Tetris. Our catering team did also an amazing job in transforming the storageroom into their break room, it's surprisingly cozy in there. We're actually still looking for more people to join our crew! We still have a few comfortable cupboards available. Kidding, kidding. There will be room for you.
Luckily it's not all work. We love to hang out with each other after working hours so there are plenty of free time activities. This month we played a lot of board games and video games. One Friday we even had a StarCraft II tournament. We had a good guess about who the winner would be, but it was great to see an underdog nearly snatching the victory! Seems like we need to have another tournament soon…
Some people were also crazy enough to play badminton in a nearby sports center. Nerds playing sports, isn't this just the craziest idea! On Fridays we also heat up the sauna and enjoy some refreshments.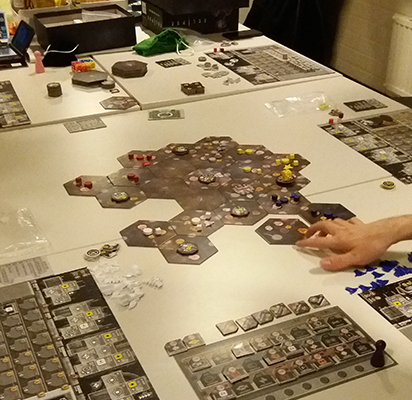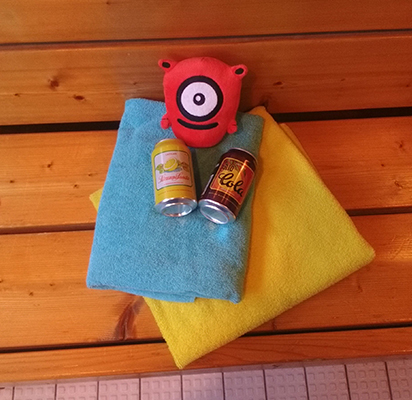 On our free time we also played board games, like Eclipse shown above. Splot seems to be on its way to sauna!
Of course there has also been a lot of game development going on. Has-Been Heroes and Nine Parchments are keeping us busy at the moment. Even though it's only January we're already cruising at full speed! 🙂
Is there anything you would like to ask us about our daily work? We would love to answer your questions in next month's post.