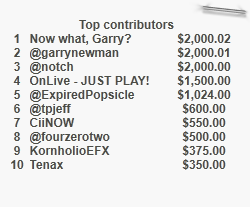 Looking at the top contributor list you might notice a few familiar names. Currently in the top three we have @notch who is Markus Persson from Minecraft fame and Garry Newman known for the Garry's Mod.
Now it seems as the top spot has been taken over by the competitively named "Now what, Garry?", that we can only assume to be a friendly gesture to see which famed game industry superhero will be able to take control of the top of the contribution hill. 🙂
This is very nice to see and further reminds us that we are in fact a part of  great community at large.
Let's see how this feud develops and if more people join in to claim the top position.
– Mikael