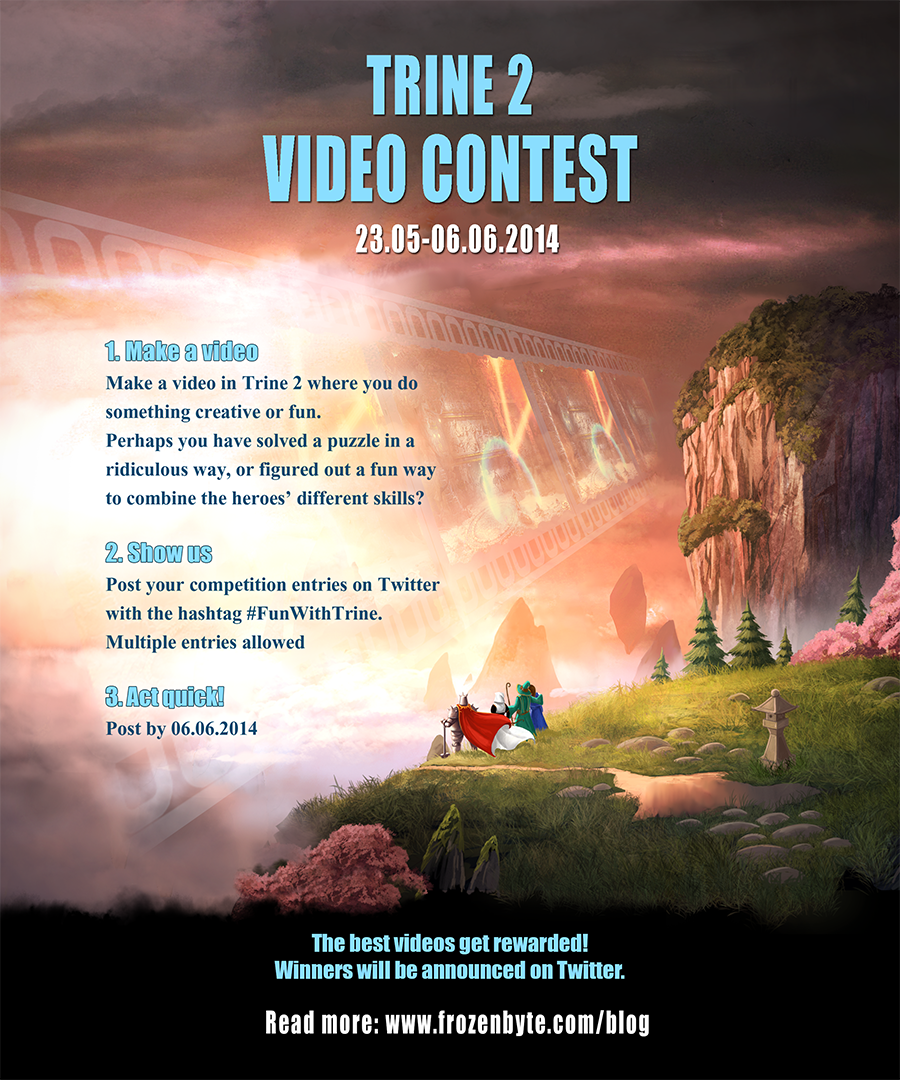 A few weeks ago we stumbled on THIS post on the Steam forums, posted by user CHARC0AL.
We were thoroughly inspired by this creativity and wanted to see what else the community could think of! We urge you all to start Trine 2 and try to find new fun things to do, new solutions to puzzles and record them on video. Post your links to your video(s) on Twitter with the hashtag #FunWithTrine and we will be retweeting some of the entries, and we will hand out a small prize to the one we find most entertaining!
The competition runs for two weeks, starting today, so the competition time is from Friday 23rd of May until Friday 6th of June. We have of course already asked CHARC0AL to give us his contact information to send a little something in his way too; after all, his video is the one that gave this idea in the first place.
See the rules of the contest within the poster and send us your videos!
HOW TO DO THIS:
1) Download a free video capturing software, if you don't have one already (for example Bandicam, Fraps, Overwolf, etc..). There are plenty of different ones available!
2) Capture your video. With most programs, this is as easy as just pressing one button to start recording when the game is on, and the same button to stop the recording! Most of the programs come with easy instructions, and setting them up should not take time.
3) Upload your video on YouTube. You can use your Google account for this. If you don't have one already, you can create one for free!
4) Post a link to your video on Twitter. Remember to use #FunWithTrine in your tweet! Twitter accounts are free as well. Remember to follow us on Twitter so you don't miss it when we announce the winners!
Please contact us if you have any questions about this. Have fun with Trine!
*** UPDATE ***
You're now also allowed to post your contest entry videos here in the comments section of this blogpost 🙂