If you want to try games that we haven't released yet and happen to live or be in Finland, now might be your chance!
The idea is to get feedback and some fresh perspective on our games before their official releases. This means that we invite some people over to spend a few hours at our office playing games and perhaps engaging in some friendly chatter.
The playtest sessions are relatively short – so this is not a paid position nor is this a job add (if you're looking for work, head over to our Jobs page instead!). However, those we choose to invite will not have to leave empty handed either – we'll have some snacks, drinks and also some cool stuff they get to take home. 🙂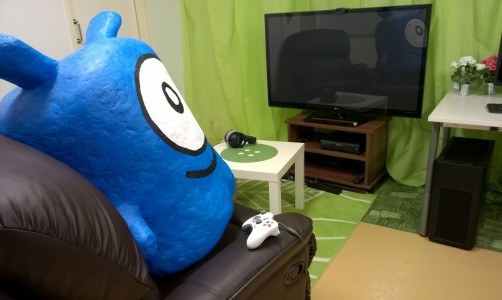 Splot has tiny t-rex arms, so he can't reach the controller and is no help with playtesting. 🙁
Would you like to take his place?
What's the catch?
You get to play our games that are not yet published!
You get to critique our work and we'll thank you for it!
You get to visit our office
Free snacks and drinks, yay!
The playtest sessions last about a few hours
Playtest sessions are not paid positions; this isn't a job add. If you're looking for work, please refer to our Jobs page.
The playtesting sessions are held at our office in Helsinki, Finland. You will need to pay and arrange your trip here by yourself.
You can speak either Finnish or English – either is equally fine, as long as you're able to make the trip to our office.
We'll choose people to invite based on the filled forms. We're not able to answer all enquiries, sorry!
If you're interested, head over to the Playtest session and fill out the questionnaire! 🙂