A cold morning reminds that July is over, but let's not give up on summer yet! There has luckily been some good sunny days as well and more to come! And a big thunder storm during the last weekend… but that's just how summer works?
Besides thunder it has still been quiet at the office due to holidays, but some of you might have noticed that we are getting ready for cool events!
First we'll be heading to Gamescom, held in Cologne, Germany from 22nd to 26th August. We'll be showing Nine Parchments there, so make sure to join if you're nearby!
And the fun doesn't stop there, we'll be travelling more, our next stop being PAX West 2017 in Seattle, USA at the start of next month from 1st to 4th September! And then to Tokyo Game Show 2017 in Japan from 21th to 24th September. Hopefully that sounds pretty cool? Are you coming to see us in one of these events? 😉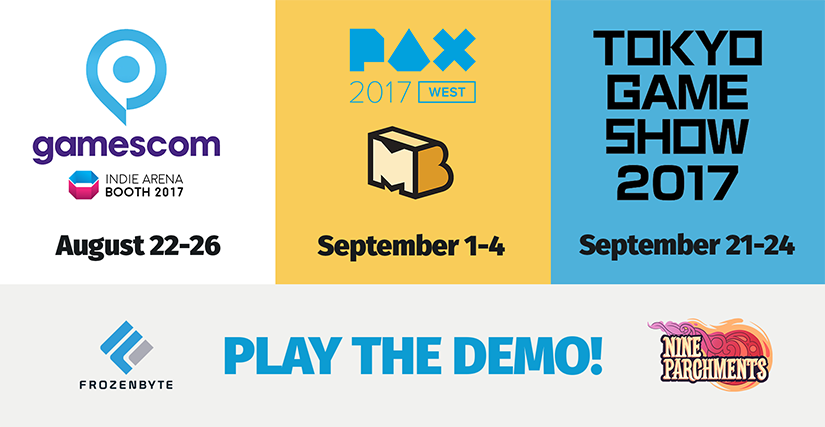 Events we are attending to show Nine Parchments!
While waiting for the events and other news, you might be interested that we're holding playtesting for Nine Parchments! These short tests are held for people outside the company, and no previous experience needed. So, pretty much anyone can come and hopefully have fun with the game! However, sorry for the readers from other countries, you will need to come to our office in Helsinki, Finland for the playtests. If you still think you could make it, just fill the form on this page!
And not to leave you without anything new, here is a screenshot from Nine Parchments!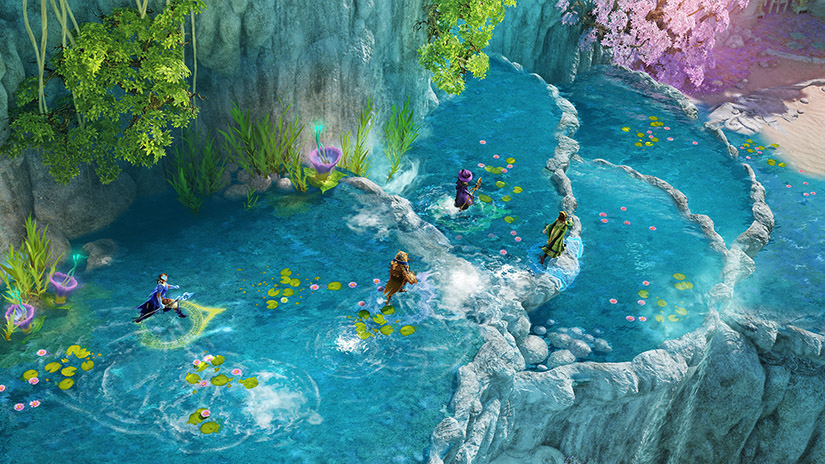 Ready to explore in Nine Parchments? More updates soon! Picture from an alpha version.
Also just in case you missed it, below is a new video collection of the introduced Nine Parchments characters, including the newest eighth character! We shared the video in social media, and it's also mentioned in this blog post. Tell us what you think!

You won't believe who's the eighth playable character in #NineParchments ! 😲 #NintendoSwitch #PS4 #XboxOne #Steam pic.twitter.com/XKHU7520Ch

— Nine Parchments (@NineParchments) August 15, 2017
 
That's about all for this time. Unfortunately no food pictures because of the lack of parties… but we'll try to do better next month. There might also be a little longer break with Monthly Reports but stay tuned! These are still coming every month. 😊
Have a fun (hopefully not yet over) end summer!