Great news about the Early Access for Trine 3: The Artifacts of Power! We've just released update v0.07, the first major content update. Included are two new levels – the third Story Level and a new Challenge Level.
Get ready to enter the mystical Astral Academy, where strange magic has taken control of inanimate objects. Here's a short teaser of what's to come (don't watch if you don't want to be spoiled in any way):

The Challenge Level this time around is for Amadeus, befittingly called "A Wizard's Nightmare".
In addition to the new content, we've been working on several major gameplay changes as well, namely related to checkpoints and resurrection. We've had comments during Early Access saying that the combat has been too easy and we agree, so instead of just making monsters hit harder or increase their numbers, our design went back to the drawing board.
The result is that checkpoints now only store level progression, and no longer resurrect players. Instead, if one of the heroes dies, you'll have to reach their spirit with one of the other heroes that are still alive to resurrect them. In combat this takes a longer time, so you might have to fend off enemies to save your fellow companions. This opens up a lot of new possibilities for very cool and more difficult fights.
The visual effects for resurrection and the spirits are not finalized yet, but we'd love to hear feedback on the new system and the added levels 🙂
To celebrate the update, we also took some new 8k-resolution screenshots, enjoy!
We've also received lots of feedback about the character outfits in the Unlimited Mode and tutorial levels when playing in co-op. As a result, we added different coloured outfits for the Trine Heroes to be used when more than one person is playing the same character. We hope that this will make playing together online easier and more fun when all players are able to instantly tell their characters apart from the others based on their outfit colors.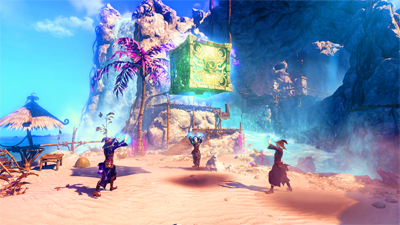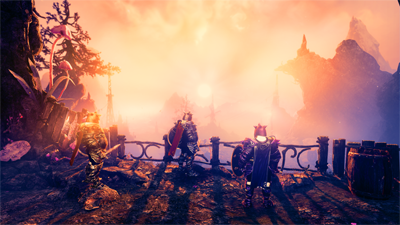 Here's the full changelog for anyone interested:
********************************************************************************************************************
Trine 3: Artifacts of Power changelog
********************************************************************************************************************
v0.07 (build 2939) – June 11th, 2015
Early Access update #7 (New story level + New challenge level + Optimizations + Bug fixes)
Technical
* Added more optimizations
* Added optimizations when game is run on laptop and in battery mode (Game will reduce shader quality and enables 30 FPS cap when battery mode is detected)
* Fixed some crashes in co-op gameplay
* Fixed rare crash issues which happened to various users
Online multiplayer
* Added different colors for player characters when playing Tutorial and Unlimited Mode (also affects local co-op)
* Fixed some online multiplayer issues in all levels
Levels
* Added "The Astral Academy" story level!
* Added "Challenge #3" level!
* Fixed and tweaked lots of small gameplay issues in "The Three Heroes" level
* Fixed and tweaked lots of small gameplay issues in "Academy Outskirts" level
* Fixed and tweaked lots of small gameplay issues in "Themepark" level
* Fixed and tweaked lots of small gameplay issues in "Challenge" levels
* Fixed and tweaked lots of small gameplay issues in "Concept 01" and "Public Editor Example" levels
Gameplay
* Added new player re-spawn system and spirits (still a bit work in progress!)
* Added Mouse Wheel support for Amadeus (Wizard) levitation (object moves in depth)
* Fixed Zoya (Thief) bow shooting on kb+mouse (no more automatic arrow release)
* Fixed bunch of small issues for all player character skills
* Tweaked logic for various player character skills
Save & Load
* Added automatic saving system
Effects
* Added new effects to various gameplay elements
Audio
* Added new audio effects to various gameplay elements and levels
Console
* Added new console into game (F8)
* Added Ctrl+v support for the console
Localization
* Added missing localizations for English
Achievements
* Added "Complete Astral Academy" achievement
* Added "Collect all shards from Astral Academy" achievement
Public Editor
* Fixed issue where new editor install might delete your level save files if installed to old editor install folder
Info
* When reporting bugs, please always state game's version number and build number. Check the version number from game's main menu.
List of Known Issues
* Online Multiplayer doesn't have sound if Voice Chat is enabled. You can disable it from %appdata%/Trine3/options.txt (more info on Steam community forums)
* Public Editor might have issues if you try to install new version into old versions install folder (also hundreds of pop ups might appear).
NOTE
* Patch size will be about 1.8 GB due to rebuilded data (optimizations) and due to new content
********************************************************************************************************************