We've just released a new content update for Trine 3: The Artifacts of Power! It includes a free new level as well as official support for SteamOS and Linux.
The new level is a mini adventure featuring the three heroes and their (or mainly Pontius's) desire for some food – a cake, no less!
Also included are various minor fixes and improvements, such as a mid-level checkpoints for the Lost Page levels, and a fix to the Wizard's box exploit. Changelog below and also available in the game's files.
All three Trine games are now also now on SALE from Thursday 5th November for the duration of this weekend. For details, check the store pages on on Steam, GOG.com and Humble Store!
Don't forget to tell your friends so that you can play together. 🙂
Trine 3: The Artifacts of Power OS X version is still available on BETA through Steam – official release later this year!
Any thoughts on the update? 🙂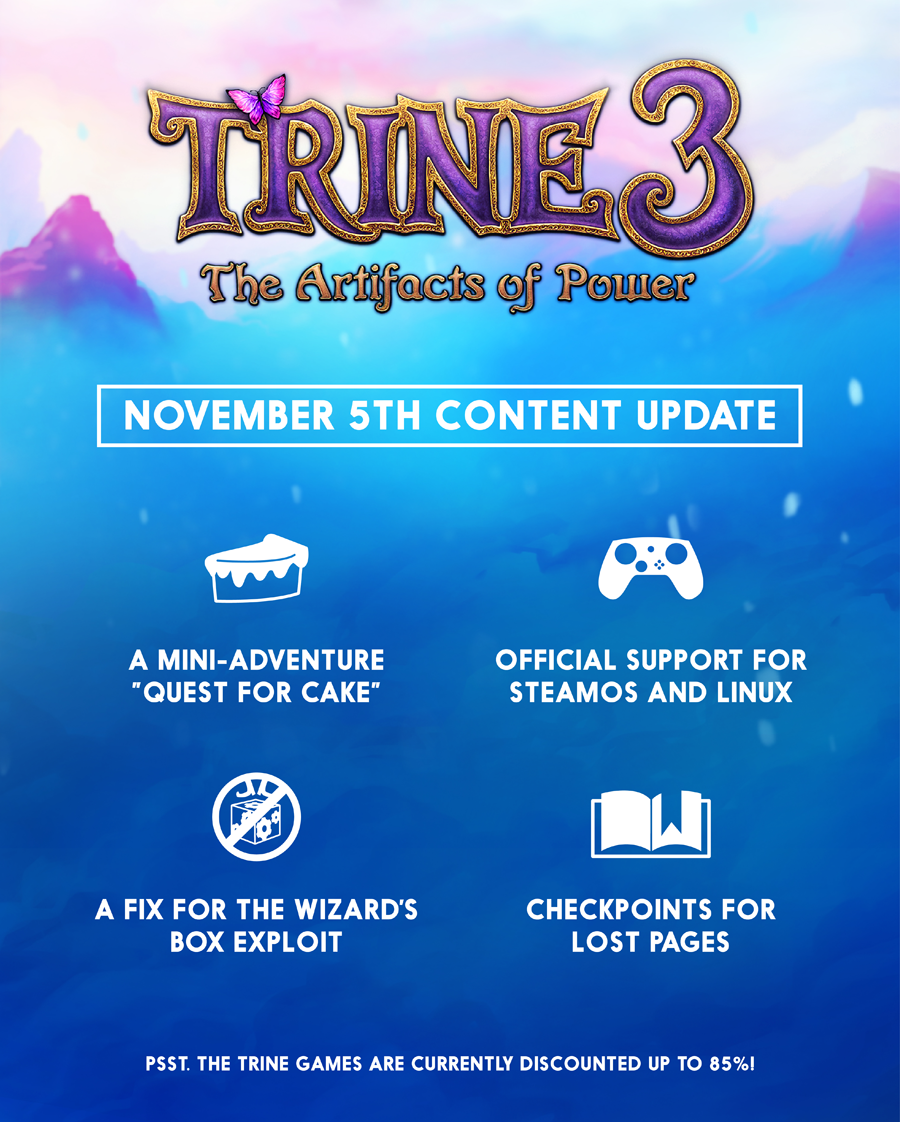 Changelog
v1.10 (build 3080) – November 5th, 2015
Content update! New level! Linux and SteamOS official release!
Levels
* Added a new level "The Quest for Cake" !
* Added similar checkpoint logic to Lost Pages levels than Tutorial levels have, now you can die during the level and continue without restarting the whole level
Gameplay
* Amadeus (Wizard) accurate or companion levitation cannot be started while not on ground ("the Wizard box exploit")
Technical
* Re-builded the game data due to some engine level changes which increases the size of the update.
* Fixed crash issues which could occur when changing characters (rapidly)
* Fixed rare crash issues with physics objects (when physics contact happened)
* Fixed rare crash issue which could occur when levitating objects with Amadeus (Wizard)
Optimizations
* Added (minor) optimizations all over the gameplay and engine logic while working on other platforms 🙂
Rendering
* Fixed sway which was randomly disabled sometimes
* Fixed overly bright fogs for Linux and OS X
Input
* Fixed some rare double input issues with backspace button and input in general
GUI
* Fixed loading screen glitching when changing save slots or deleting them
* Fixed missing character when deleting a save slot
Cinematics
* Fixed minor issues with the intro cinematic (polished scene, no more holes in the geometry, no more characters running through the walls etc.)
Achievements
* Fixed issue where Trineangle related achievements were only unlocked on level exit, now they are unlocked when last one is collected in a level
Stereo 3D
* Fixed Stereo 3D feature available pop up which was missing
* Fixed Trine 3: The Artifacts of Power main menu logo which stuck on screen when Stereo 3D was enabled
Public Editor
* Reworked the whole resource processing logic
Info
* All v1.10 (Steam and DRM Free) builds are online multiplayer compatible with this build (check the version number from game's main menu)
OS X Known issue
* Mouse needs double click so that one click passes through, this can be fixed by ALT+TAB / CMD+TAB the game and back