The quest for Nine Parchments begins today! The game is now out on Nintendo Switch in Europe, and in couple hours available for Switch in USA and on Steam as well! Japanese Switch Release will be on December 7th. This also means we have a release video which you can check below. 😊
PlayStation 4 and Xbox One releases are still pending. So there is no release date for them, but we'll let you know when we know more!
About Nine Parchments
Nine Parchments is a co-operative blast 'em up game of magical mayhem which we gladly present you! It supports local and online co-op with up to four players, and on Nintendo Switch there is an option for the Local Wireless Play as well. Also One Joy-Con support for Switch is included.
Runaway apprentice wizards seize the opportunity to complete their spellbooks by going after the lost Nine Parchments. As the would-be wizards rapidly acquire powerful new spells without learning proper safety measures, it's natural their hasty progress results in plenty of deadly accidents…
Nine Parchments combines real-time spell-shooting action with RPG elements – level up your character and collect magical loot, filling your wardrobe with a myriad of wizard hats and staves.
Features
Dozens of spells for you to discover and master
Unlock new playable characters with quests
Find fashionable Hats and powerful Staves
Level up and improve your characters with their Skill Trees
Resurrection and Friendly Fire: Help and hinder your friends
Battle strange creatures and mighty bosses in the beautiful Trine world
Online and local co-op with 1-4 players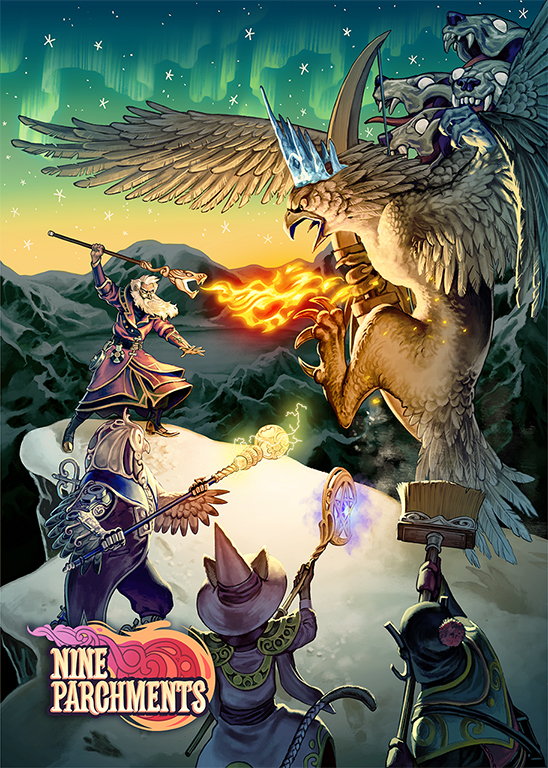 This launch art is inspired by Kalevala's Finnish folklore to celebrate Finland's 100 years of independence. Did you recognize it?
DRM-Free
The PC version is only for Windows, but it's also soon available DRM-free from GOG and Humble Store.
Screenshots
Below are some new pictures from the game. Click them for a bigger view!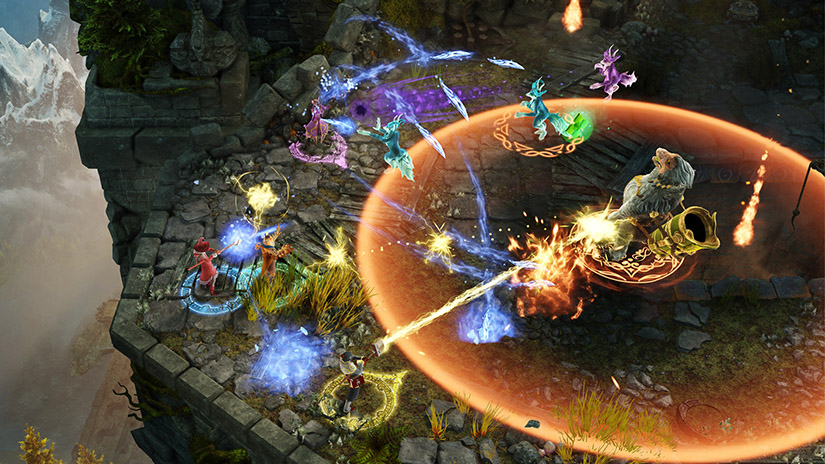 If you have any questions feel free to leave them below or join us on our official Nine Parchments Discord channel! The join link is here. Now go forth wizards!