It's finally time for a new monthly update for May! 😊
First of all I'd like to mention that as said in our previous blog post about Nine Parchments, we'll be showing the game in Magnology! This game and manga convention will be held in Hamburg, Germany from today, June 9th to 11th. So if you're near the area, please stop by!
In that same post we announced that the game will also land on Nintendo Switch later this year and revealed some other details. You can check the blog post and its announcement trailer from here.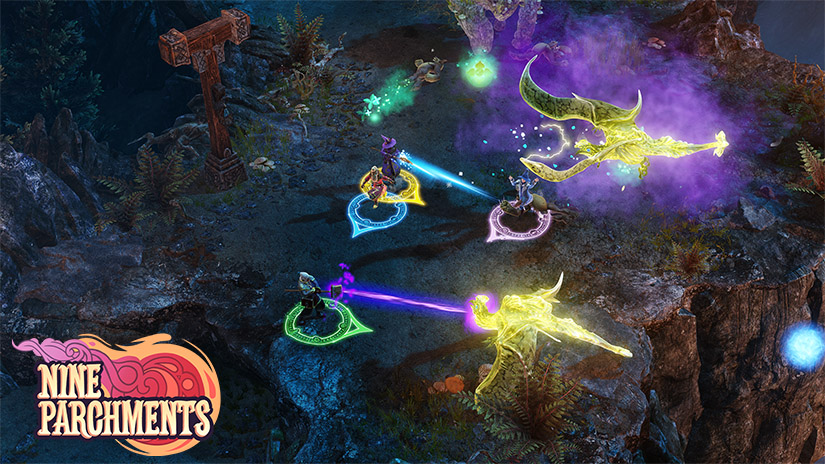 A new Nine Parchments screenshot! Click for a bigger view.
We also have a lot of other Nine Parchments stuff coming up, like the playable character introductions that were started earlier this week. So stay tuned! And did you meet Cornelius Crownsteed already? 😉
Was there anything else happening? Well, the weather in Finland was quite questionable as mentioned in the previous Monthly Report. In mid-May we had pretty awesome and warm weather, it looked like summer had arrived. But you know, then the basic thing happened, we had snow. But at least Splot got to enjoy from a couple of warm days.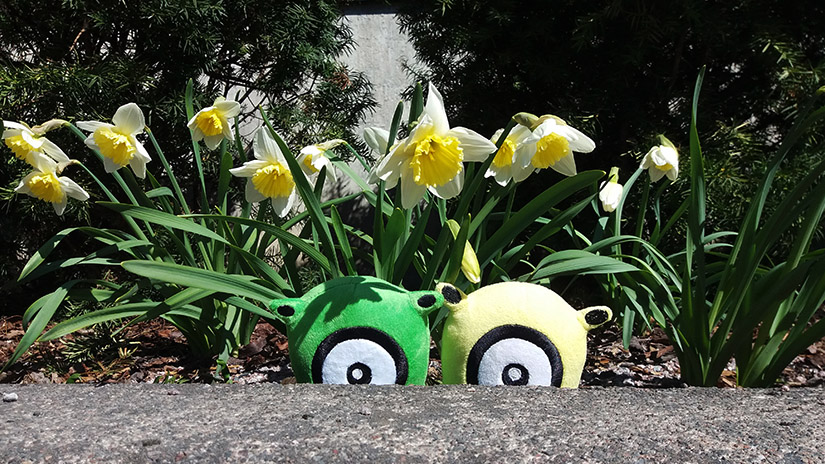 Splots hiding with narcissuses! Well, that's one way to enjoy the weather…
Has-Been Heroes patch is also on its way, the team has been keeping an eye out for your feedback and ideas. And we are still looking for new players to reach our Hall of Heroes. We are missing the first player to conquer the game on PlayStation 4! There is also a lot of space for you brave warriors on other consoles too. 👍
There was a lack of food image in the last Monthly Report. It would be horrible if this happened twice in a row, so below is a picture from one of our desserts. Catering had written "Hard-to-choose-muffin" on the menu and that name was right on spot. We were given the option to choose from four different kind of muffins; chocolate, caramel, blueberry and apple. Hard decisions!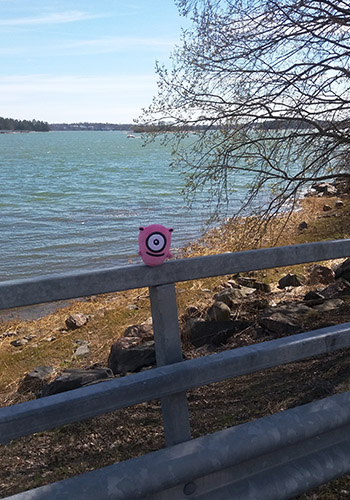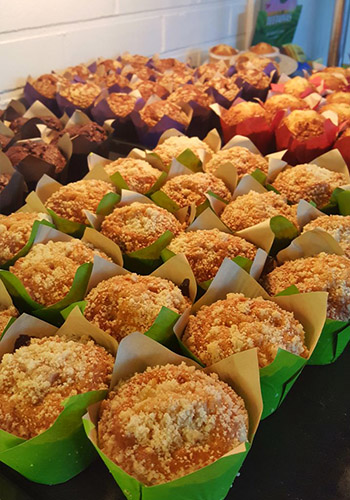 Splot spotted near the sea shore and the muffins. Which treat would you have chosen?
And summer is nearly here! This also means that the summer vacation season is right behind the corner. Maybe we just post beach pictures in our next Monthly Report. Just kidding, the sea is still way too cold in June!
And last thing for GOG.com users! Our games are on fair sale there (up to 90% off) and can be found here. We also added Shadowgrounds games to GOG Connect which allows adding your Steam games to your GOG Library. We recommend checking that out!
That's all for this time. Looking forward to your comments! 🙂